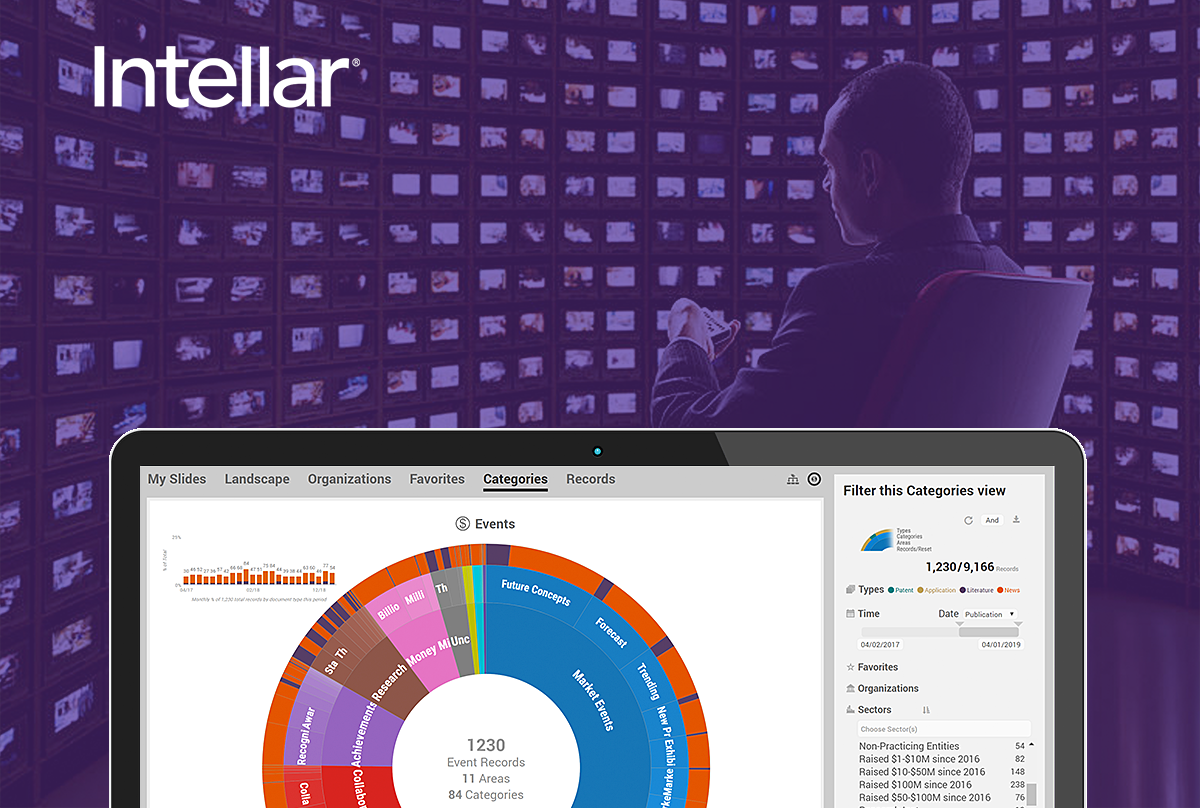 USE AI TO UNDERSTAND YOUR LANDSCAPE WITHOUT BEING A DATA SCIENTIST
Competitive intelligence
dashboards
Intellar® dashboards custom-map strategic IP, technology & business insights from any text data source, to predict your industry futures
90M+
Patents & families from 100+ countries

4,400+
Full-text magazines, journals & trades

1,500+
Full-text newspapers & newswires


1.2M+
Full-text company profiles

2M+
TV and radio news transcripts

25M+
Citations from 5,200+ journals in 60 languages

1809
Earliest year of coverage

∞
Number of your text sources Intellar maps
Who leverages Intellar dashboards?
How tailored Intellar dashboards precisely track your team's hot topics
Intellar's trusted curation process guarantees you see all the intelligence your team needs, and none of the data they don't
Describe your business & competitive goals in your own language
Use natural language ask strategic competitive intelligence, technology market or IP landscape questions
Agents begin continuous IP, technology & market data collection
Initial queries are established to stream relevant news, literature & patents to our servers, enabling Intellar to learn optimal data cleaning, categorization and curation routines
AI extracts meaningful categories, events & sectors, sanity-checked by experts
Deep learning artificial intelligence (quality-controlled by human analysts) tags, screens and elevates just the trends, topics, events and sectors you need to consider now
Explore & export business profiles from the cloud with minimal time & effort
Trusted IP & technology business insights are securely shared to teams in the cloud on a discrete or continuous basis. See satellite & helicopter views of strategic deals, relationships & assets, with drilldown to individual events. Comment, vote and analyze favorite trends and export beautiful slide decks for presentation.
Pretty. Useful.
Curated continuous business & technology intelligence for your team, explored with clicks & taps
AI-FUELED RAPID VISUALIZATIONS GET GROUPS ON THE SAME TRUSTED PAGE
SOURCED FROM CONTINUOUSLY UPDATING global BUSINESS CONTENT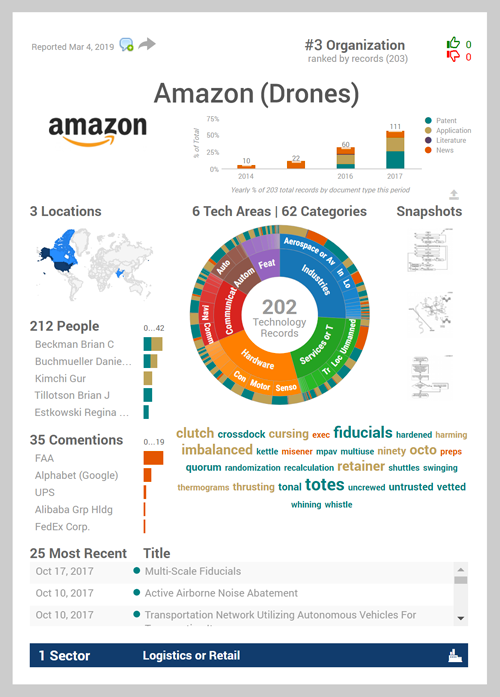 Browse smart profiles that quickly summarize organizations, relationships & portfolios
Quantify a firm's innovation capabilities, depict company investment trends and highlight organizational IP strengths, with drill-downs on key people, locations and collaborators
Isolate any point of view or time slice with simple but powerful filters
Click, sort and slide to screen for hidden business relationships, disruptive technology changes and emerging IP trends in each of the major views in Intellar
Quickly compare strategic activities across entities
High speed comparisons illustrate strengths and weaknesses across key players, topics, events and geographies
Identify meaningful white spaces
Rapidly sort visualizations to showcase sparse data and elevate weak signals that your team can leverage
Leverage the most useful market research & IP search reports, ever
Escalate or ignore your curated records with ease. Link out to favorite patent, news, literature and open web sources as well as your own databases. Create technology landscapes, patent maps, intelligence newsletters, market research reports, novelty search reports, freedom to operate search reports and validity search reports. Export records and metadata to Excel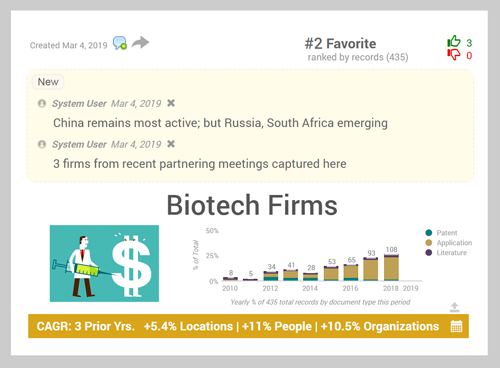 Collaborate & get the team on the same page
Capture knowledge via comments, votes and favorites, from our team and yours. Mark up and prioritize any entity, asset or trend. Export and share your findings to gain consensus
Editor summaries present highlights to you
The Intellar curation team (part human, part AI) ensures that each dataset refresh contains updated technology, market and IP summaries to guide you and your team to competitive success sooner
Organize insights & export slides
Automatically generate storyboards and graphical presentations with charts explained by narrative text, statistics and links. Export to PowerPoint slide decks and distribute to colleagues
Example Intellar dashboards of emerging technology landscapes
Access live technology landscape trackers to surface leaders, discover deals & spot new trends
Pre-made dashboards start at $500/month. Custom dashboards start at $1,000/month.

Intellar dashboards can be viewed by any number of people. Pricing IS bASED ON THE breadth OF A TOPIC (number OF RECORDS & range of sources). Dashboards can be one-time or updated at any frequency.
Cost effective IP, R&D, M&A